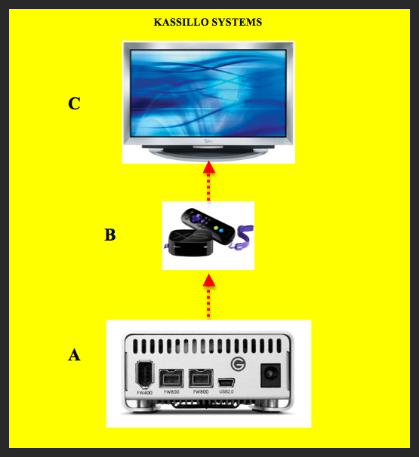 Kassillo Systems

The Kassillo Systems is created by the Jeneba Project to provide schools with media education where there is little or no internet. The system is created solely using available electronic materials: a television monitor, a ROKU 2 XS internet TV box, and a hard drive. Where there is high speed internet the hard drive is unnecessary, since ROKU allows for a direct link to online media webs such as Vimeo and Sunimi. However, a hard drive is needed to operate the Kassillo Systems in areas where internet service is weak or unavailable.

Description
A. The Hard Drive: Any hard drive can be used. All recorded visual teaching materials are saved on a central hard drive. There is no specific format requirement for the videos, but ROKU 2 XS provides various specifications for different systems and cables.
B. The Roku 2 XS Streaming Player
C. The Television: ROKO 2 XS is compatible with both HDTV and Standard TV. Therefore, the Kassillo Systems can be used with almost any television.
Note: A storage expansion slot is also on the ROKU 2 XS to help you increase your storage capacity for Roku apps with a microsD card.